eMule 0.50a TombStone v2.1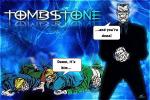 Notes:
TombStone
is now based upon eMule v0.50a including all important updates/fixes that version offers.
This version includes the ClientAnalyzer 1.5, VQB fullchunk system and modstring support ONLY - NOTHING MORE !
That's the perfect version to check out or to base your mod upon if you want to use the CA.
The code is also much cleaner and easier to port/integrate to your own language/mod.
Changelog FiNaL:
Removed unnecessary user limitation that prevented downloading files in the default cat alphabetically
MetaDataDlg is now added on-the-fly when you change the ext controls pref setting
Fixed localization bug in shared files window
Fixed official bugs in indexed.cpp
Changelog Beta1:
Update to eMule v0.50a
Changed max upload from SESSIONMAXTRANS to PARTSIZE
Download Mirrors:
eMule-0.50a-Tombstone-v2.1-bin.rar
eMule-0.50a-Tombstone-v2.1-src.rar
Download more versions of eMule TombStone.MoD
Features & Changelogs for eMule TombStone.MoD
Rate eMule TombStone.MoD @ emule-mods.de
!!!
eMule
:
Server.met
-
Server-List
-
IPFilter
-
Skins
-
eMule Wiki
-
Nodes.dat (eMule KAD)